Show all

Modell des Nyatapola-Tempels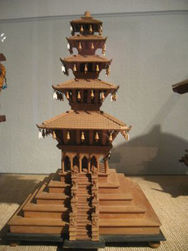 General
| | |
| --- | --- |
| Object Name | Modell des Nyatapola-Tempels |
| Individual Model/Group/Series | Single Model |
| Type of Model | Models of Edificial/Technical Constructions |
| Last Update | November 2011 |
| | |
Formal Description
| | |
| --- | --- |
| Scale | Dimunition |
| Size (Width, Height, Depth) | Ca. 25 x 29 x 25 cm |
| Material | Wood |
| Manufacture Technique | Handcraft |
| Single/Multiple Manufacture | Individual Production |
| Static/Movable | Immobile |
| | |
Description of the Content
Academic Discipline
Archeology · Indology · Religious Studies
Intended Use
Exposition Object · Teaching Object
Further Information
Modell des Nyatapola-Tempel in Bhatgaon, der alten Hauptstadt im Tal von Nepal, bei Kathmandu. In einem Innenraum des Modells steht ein vierarmiges Götterbild.

Es wurde von Friedrich Heiler 1959 in Kathmandu erworben.
Reference Object
Reference Object
Nyatapola-Tempel
Type of Building
Building
Continent
Asia
Place/Region
Bhatgaon, Nepal
Date of Construction
1703
Architectural Style / Epoch
späte Malla-Zeit
Function
Sacral
External Links
Reference Object
Description / Abstract
Der Nyatapola-Tempel befindet sich in Bhatgaon, Nepal, der alten Hauptstadt im Tal in der Nähe der heutigen Hauptstadt Kathmandund Erbaut werde er 1703 auf Anweisung von König Bhupatindramalla (reg. 1694-1722) im Stil der späten Malla-Zeit (15. - 18. Jh.) zu einer Zeit religiöser Spannungen im Königreich Bhaktapur.

Der Tempel ist aus Holz- und Ziegel im Pagodenstil erreichtet. Der Pagodenstil, aus dem indischen Stupa entwickelt, verbreitete sich von Indien über Nepal, Tibet bis nach China und Japan. Die Bauweise zeigt einige Neuerungen, wie z. B. die höhere Anzahl der Dächer oder die Einführung einer offenen Galerie rund um das Innere des Schreins. Es handelt sich um eine 5-stöckige Pagode, deren gesamte Dachkonstruktion mit Stützen und Streben aus Holz ist; die Wände sind aus gebrannten Ziegeln gemauert. Auch der mehrstufige Unterbau ist gemauert, die Treppe ist dazu aus Ziegeln mit Stuck verkleidet. Die Treppe bewachen menschliche und tierische Gestalten: ganz unten 2 Ringkämpfer, darüber Elefanten und Löwen. In jedem Stockwerk befindet sich nur ein Raum, darin je ein Altar mit hinduistischen Göttern. Ringsum an den Dächern hängen Glocken. Der Tempel war der persönlichen Gottheit des Königs geweiht.
Reference Collections
Religionskundliche Sammlung der Philipps-Universität Marburg, Philipps-Universität Marburg ·
Details