Show all

Modell zur Entwicklung der menschlichen Schilddrüse (9. Woche)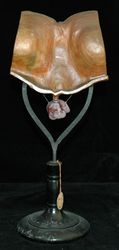 General
| | |
| --- | --- |
| Object Name | Modell zur Entwicklung der menschlichen Schilddrüse (9. Woche) |
| Individual Model/Group/Series | Single Model |
| Type of Model | Models of Creatures and Biological Systems |
| Last Update | März 2011 |
| | |
Formal Description
| | |
| --- | --- |
| Scale | Augmentation 300fach |
| Size (Width, Height, Depth) | 15 x 14 x 2 cm |
| Material | Wax |
| Manufacture Technique | Handcraft |
| Single/Multiple Manufacture | Individual Production |
| Static/Movable | Immobile |
| Dismountable | Non Dismountable |
| | |
Description of the Content
Academic Discipline
Anatomy · Developmental Biology · Human Medicine · Medicine
Intended Use
Exposition Object · Research Object
Place of Production
Heidelberg
Producer/Distributor of
Technical Object
Further Information
Der Embryo als Vorlage war ca. 4,08 mm groß und befand sich in der 9. Woche und im Stadium 13. Er hatte 4 Gliedmaßenknospen, Linsenscheibe und Augenbläschen. Das Modell wurde auf Basis histologischer Schnitte des Embryos No 3 von Hochstetter erstellt.
Reference Object
Reference Object
Modell zur Entwicklung der Schilddrüse
Biological Taxa
Human
Body Part / Organ
Endocrine Gland
Organic System
Endocrine System
Person
Reference Object
Description / Abstract
Der Embryo wurde mit der Lösung nach Zenker fixiert, eingebettet in Paraffin und frontal geschnitten.
Reference Collections
Anatomische Sammlung, Universität Heidelberg ·
Details