Show all

Modell zur Entwicklung des menschlichen Schlundes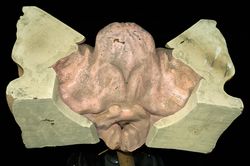 General
| | |
| --- | --- |
| Object Name | Modell zur Entwicklung des menschlichen Schlundes |
| Individual Model/Group/Series | Single Model |
| Type of Model | Models of Creatures and Biological Systems |
| Last Update | März 2011 |
| | |
Formal Description
| | |
| --- | --- |
| Scale | Augmentation 75fach |
| Size (Width, Height, Depth) | 18 x 31 x 20 cm |
| Material | Wax |
| Manufacture Technique | Handcraft |
| Single/Multiple Manufacture | Individual Production |
| Static/Movable | Immobile |
| Dismountable | Non Dismountable |
| | |
Description of the Content
Academic Discipline
Anatomy · Developmental Biology · Medicine
Intended Use
Research Object · Teaching Object
Year of Production
Anfang des 20. Jhs.
Producer/Distributor of
Technical Object
Further Information
Das Modell ist auf Basis der histologischen Schnitte des Embryos mit Namen No. 33 aus der Sammlung des Anatom Stieve erstellt worden. Kallius ließ dieses Modell mit Farbe übermalen, damit die einzelnen Platten nicht sichtbar wären und den Blick somit nicht ablenken würden.

Der Embryo wurde eingebettet und jeder 2. Schnitt auf 1,5 mm dicke Wachsplatten übertragen.
Reference Object
| | |
| --- | --- |
| Reference Object | Entwicklung des Schlundes |
| Biological Taxa | Human |
| Body Part / Organ | Digestive Organ |
| Organic System | Digestive System |
| | |
Reference Collections
Anatomische Sammlung, Universität Heidelberg ·
Details